28,000 show up to first night of SoCal Harvest, more than 2,100 make professions of faith
ANAHEIM, Calif. – SoCal Harvest, the annual evangelistic outreach started by pastor, evangelist and bestselling author Greg Laurie, kicked off its 30th anniversary crusade Friday at the Angel Stadium. The event, which has become a Southern California tradition, drew 28,000 people, with 2,150 making a profession of faith.
"You don't clean your life up and come to Christ. You come to Christ and he will clean your life up," Laurie said in a message that addressed America's record high levels of suicide, opioid addiction and anxiety.
"Heaven is not for perfect people," Laurie said. "Heaven is for forgiven people. You can be forgiven tonight."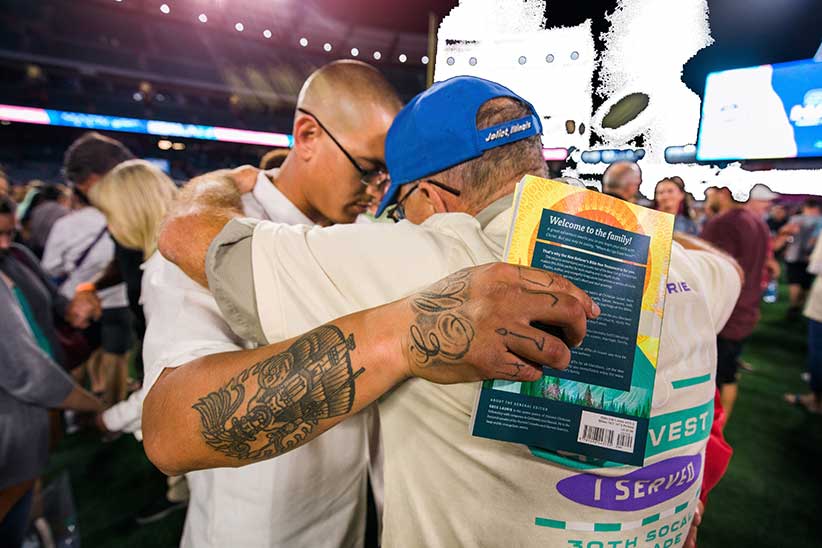 Attendees respond to gospel invitation at SoCal Harvest. (credit: Harvest)
The first evening of the three-night weekend event featured a military appreciation ceremony and performances by Grammy-winning pop duo for KING & COUNTRY, the Passion worship band and guitarist-songwriter Dennis Agajanian.
Brennley Brown, the 17-year-old finalist of The Voice, sang a moving rendition of "God Bless America" during a military appreciation ceremony that included fireworks and a flag presentation. Dozens of active duty members, reserves and veterans unfurled a U.S. flag that covered about half of the Angel Stadium's field. After the flag presentation, Former Navy SEAL and Actor Remi Adeleke offered an opening prayer.
"We want to kick off this year's event with a special tribute to those who serve us," Laurie said and added, "You know we talk about heroes … but a hero is someone who is willing to put their life on the line, and as far as I'm concerned anyone who takes on the uniform to serve us in the armed services is a hero."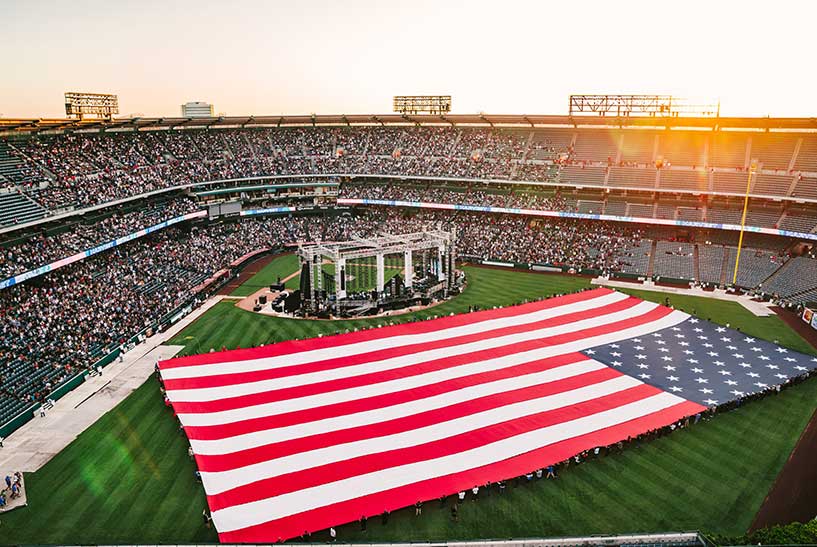 Military members unfurl U.S. flag on Angel Stadium field during SoCal Harvest. (credit: Harvest)
Laurie also spoke about the need for spiritual revival in America for which Harvest is preparing by launching a series of crusades in Southern California, Boise, Idaho, and Los Angeles over the next 20 months. The Harvest team wants to reach over one million people and see 100,000 professions of faith through the crusades.
"The only hope for America is a spiritual awakening, and the only hope is the message of the gospel because Jesus Christ is the same yesterday, today and forever," Laurie said.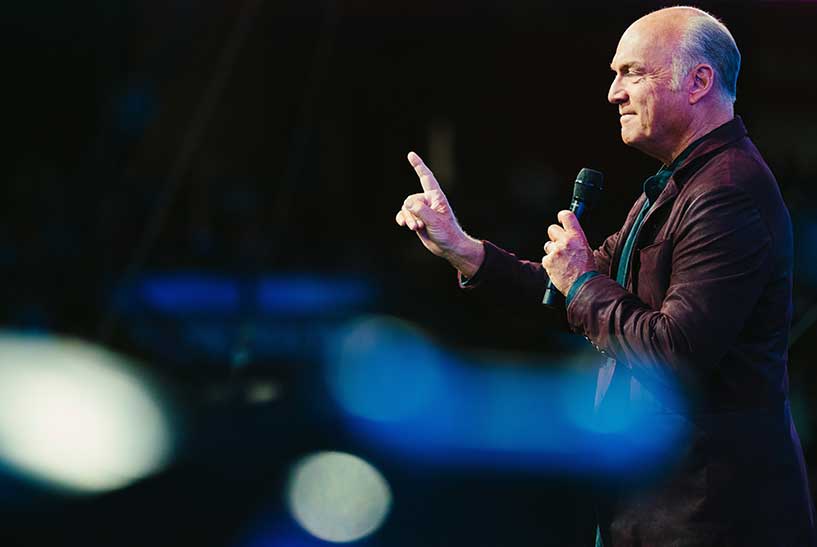 Greg Laurie speaking at SoCal Harvest on Friday. (credit: Harvest)
SoCal Harvest continues this weekend with performances from Grammy-winning rapper Lecrae, Jeremy Camp, Phil Wickham, Newsboys and Chris Tomlin, along other musical groups. Gates open at 5 p.m. on Saturday, and the event begins at 7 p.m. Admission to the event is free, but there is a $15 charge per car for parking at the venue.
Harvest also will host a youth tailgate party on Saturday from 2-5 p.m. at Angel Stadium's parking lot. The party will include a skate park, rock climbing walls, video game trucks, Apple product giveaways and a live DJ and freestyle motocross (FMX) show.
MEDIA:

Press is welcome to SoCal Harvest. Please email [email protected] for media instructions for arrival and access to the venue.
###

Greg Laurie is an American author and evangelist who serves as the senior pastor of Harvest Christian Fellowship in Riverside, California, Harvest Church at Kumulani in Kapalua, Hawaii, and Harvest Orange County in Irvine, California. Laurie's latest book, "Johnny Cash: The Redemption of an American Icon," releases in August. You can learn more about Greg Laurie and Harvest at harvest.org.