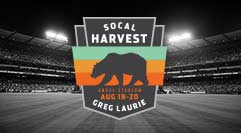 2017 SOCAL HARVEST
Event details, bios, PDF etc.
ANAHEIM, Calif. – Since 1990, Pastor Greg Laurie and his Harvest Ministries have impacted millions of people through their SoCal Harvest events. This year, on his 30th anniversary hosting SoCal Harvest, Pastor Laurie invites the people of Southern California to a free, three-night outreach event featuring music from top Christian artists and a compelling gospel message. Pastor Laurie will answer …

Some 100,000 Southern Californians Turn Out for 29th Annual SoCal Harvest, Aug. 17 – 19, While 325,000 More Tuned In Virtually Via Online Simulcast & Facebook Live RIVERSIDE, Calif., August 20, 2018 —Some 100,000 Southern Californians packed out Angel Stadium of Anaheim during the three nights of the 29th annual SoCal Harvest, which ran from Aug. 17 – 19.  Bibles …
Harvest: Greg Laurie introduction and a gospel message by Greg Laurie at Angel Stadium in Anaheim, California.

Harvest events are designed to be opportunities for Christians to invite family members, coworkers, friends, and acquaintances to hear the life-changing message of the gospel in an environment that is entertaining and nonthreatening.