Laura McGowan
Crusades Inquiries
laura@lauramcgowan.com
Ph: (847) 347-5206

Johnnie Moore
Greg Laurie Inquiries
johnnie@thekcompany.co
Ph: (434) 426-5310

Church Office
Harvest Inquiries
info@harvest.org
Ph: (951) 687-6902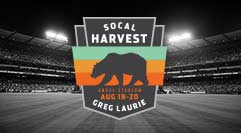 2017 SOCAL HARVEST
Event details, bios, PDF etc.
In First Stadium Crusade since the Passing of Billy Graham, Greg Laurie Encourages Believers to Carry Evangelistic Torch to the Next Generation ARLINGTON, Texas, June 11, 2018 – A crowd of more than 35,000, according to stadium officials, heard a message of hope and faith from Evangelist Greg Laurie and watched a video tribute to the late Billy Graham at …

WHAT: Crossover Harvest America is a one-night satellite broadcast and online outreach event based out of the live North Texas event to be held at AT&T Stadium June 10, bringing a message of hope and faith to audiences in thousands of locations nationwide. Through HD-quality video available through Internet streaming and satellite, the event will be transmitted from Arlington to …
Harvest: Greg Laurie introduction and a gospel message by Greg Laurie at Angel Stadium in Anaheim, California.

Harvest events are designed to be opportunities for Christians to invite family members, coworkers, friends, and acquaintances to hear the life-changing message of the gospel in an environment that is entertaining and nonthreatening.

Laura McGowan
Crusades Inquiries
Laura@lauramcgowan.com
Ph: (847) 347-5206

Johnnie Moore
Greg Laurie Inquiries
Johnnie@thekcompany.co
Ph: (434) 426-5310