Laura McGowan
Crusades Inquiries
Laura@lauramcgowan.com
Ph: (847) 347-5206

Johnnie Moore
Greg Laurie Inquiries
Johnnie@thekcompany.co
Ph: (434) 426-5310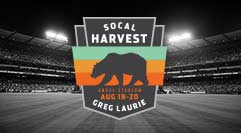 2017 SOCAL HARVEST
Event details, bios, PDF etc.
38,000 packed the University of Phoenix Stadium to listen to Greg Laurie on June 11, while more than 660,000 joined live via the Trinity Broadcasting Network, 246,647 tuned in live through the webcast, the 3,700 plus HarvestAmerica.com host sites and on Facebook Live. RIVERSIDE, Calif., June 23, 2017—Harvest America, led by Evangelist Greg Laurie at the University of Phoenix Stadium on …

38,000 Stadium Attendees + 3,758 Live Simulcast Sites Bringing Together Tens of Thousands More + A Worldwide Television and Radio Broadcast + Thousands of Commitments of Faith = Unprecedented Weekend of Hope in Arizona Glendale, Ariz., June 12, 2017 — Harvest America at the University of Phoenix Stadium on June 11 reached audiences across the country and around the world …
Harvest: Greg Laurie introduction and a gospel message by Greg Laurie at Angel Stadium in Anaheim, California.

Harvest events are designed to be opportunities for Christians to invite family members, coworkers, friends, and acquaintances to hear the life-changing message of the gospel in an environment that is entertaining and nonthreatening.

Laura McGowan
Crusades Inquiries
Laura@lauramcgowan.com
Ph: (847) 347-5206

Johnnie Moore
Greg Laurie Inquiries
Johnnie@thekcompany.co
Ph: (434) 426-5310

Bryan St. Peters
Harvest Inquiries
Bryan@Harvest.org
Ph: (951) 687-6902 ext. 331