Laura McGowan
Crusades Inquiries
laura@lauramcgowan.com
Ph: (847) 347-5206

Johnnie Moore
Greg Laurie Inquiries
johnnie@thekcompany.co
Ph: (434) 426-5310

Church Office
Harvest Inquiries
info@harvest.org
Ph: (951) 687-6902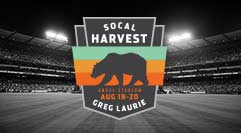 2017 SOCAL HARVEST
Event details, bios, PDF etc.
29th Annual Southern California Harvest Crusades with Greg Laurie Returns to Angel Stadium of Anaheim, Aug. 17 – 19, With Chart-Toppers Chris Tomlin, MercyMe, Phil Wickham, Lincoln Brewster RIVERSIDE, Calif., July 18, 2018 — Nearly 50 years after the Jesus Movement—one of the greatest spiritual awakenings of the 20th century—came to life in Southern California, local pastor and evangelist who …

WHAT: 2018 SoCal Harvest Will Feature Nightly Message from Pastor & Evangelist Greg Laurie, Music from Chris Tomlin, Passion, Jordan Feliz, and More WHEN: Friday, Aug. 17 & Saturday, Aug. 18, 7 p.m. (doors open at 5 p.m.) Sunday, Aug. 19, 6 p.m. (doors open at 4 p.m.) Admission is free of charge WHERE: Angel Stadium of Anaheim 2000 E. …
Harvest: Greg Laurie introduction and a gospel message by Greg Laurie at Angel Stadium in Anaheim, California.

Harvest events are designed to be opportunities for Christians to invite family members, coworkers, friends, and acquaintances to hear the life-changing message of the gospel in an environment that is entertaining and nonthreatening.

Laura McGowan
Crusades Inquiries
Laura@lauramcgowan.com
Ph: (847) 347-5206

Johnnie Moore
Greg Laurie Inquiries
Johnnie@thekcompany.co
Ph: (434) 426-5310