Laura McGowan
Crusades Inquiries
laura@lauramcgowan.com
Ph: (847) 347-5206

Johnnie Moore
Greg Laurie Inquiries
johnnie@thekcompany.co
Ph: (434) 426-5310

Church Office
Harvest Inquiries
info@harvest.org
Ph: (951) 687-6902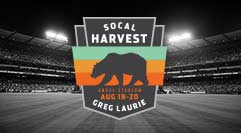 2017 SOCAL HARVEST
Event details, bios, PDF etc.
2017 SoCal Harvest Will Return to Angel Stadium in Anaheim on Aug. 18 – 20, Featuring a Nightly Message from Laurie and Music from Top Christian Artists Including Lecrae, Jordin Sparks, Danny Gokey, Brennley Brown and More—All Free of Charge  RIVERSIDE, Calif., July 25, 2017 — Pastor Greg Laurie's annual Harvest Crusade outreach will return to Angel Stadium of Anaheim …

38,000 packed the University of Phoenix Stadium to listen to Greg Laurie on June 11, while more than 660,000 joined live via the Trinity Broadcasting Network, 246,647 tuned in live through the webcast, the 3,700 plus HarvestAmerica.com host sites and on Facebook Live. RIVERSIDE, Calif., June 23, 2017—Harvest America, led by Evangelist Greg Laurie at the University of Phoenix Stadium on …
Harvest: Greg Laurie introduction and a gospel message by Greg Laurie at Angel Stadium in Anaheim, California.

Harvest events are designed to be opportunities for Christians to invite family members, coworkers, friends, and acquaintances to hear the life-changing message of the gospel in an environment that is entertaining and nonthreatening.

Laura McGowan
Crusades Inquiries
Laura@lauramcgowan.com
Ph: (847) 347-5206

Johnnie Moore
Greg Laurie Inquiries
Johnnie@thekcompany.co
Ph: (434) 426-5310