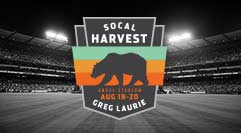 2017 SOCAL HARVEST
Event details, bios, PDF etc.
Press Release: The KAIROS Company for Pastor Greg LaurieApril 28, 2022 BOISE — ExtraMile Arena was packed out over two nights with over 20,000 people in attendance overflow crowds each night, with another 144,000 watching online. Boise Harvest saw more than 1,700 people come down to the floor, committing their lives to Christ, during the two-night community event this weekend. More than 1,500 …

Press Release: The KAIROS Company for Pastor Greg Laurie Oct. 6, 2021   ANAHEIM, Calif. — After taking a gap year due to the COVID-19 pandemic, SoCal Harvest returned to Angel Stadium on Sunday, Oct. 3 with more than 6,000 people making professions of faith.  
Harvest: Greg Laurie introduction and a gospel message by Greg Laurie at Angel Stadium in Anaheim, California.

Harvest events are designed to be opportunities for Christians to invite family members, coworkers, friends, and acquaintances to hear the life-changing message of the gospel in an environment that is entertaining and nonthreatening.