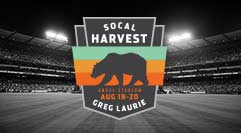 2017 SOCAL HARVEST
Event details, bios, PDF etc.
Press Release:  The KAIROS Company for Pastor Greg Laurie July 21, 2021   RIVERSIDE, Calif. – Greg Laurie, founder and lead pastor of Harvest Church and Harvest Crusades, will return to Angel Stadium in Anaheim, California on Sunday, October 3, 2021, for the SoCal Harvest—the ministry's first stadium outreach event in over a year.   Started in 1990 by …

"I keep doing these crusades year after year because I want to take as many people with me to heaven as I possibly can." — Greg Laurie ANAHEIM, Calif. –SoCal Harvest is celebrating its 30th anniversary of holding crusades in Southern California the same way it did after its first crusade in 1990: with thousands of changed lives. The three-night outreach …
Harvest: Greg Laurie introduction and a gospel message by Greg Laurie at Angel Stadium in Anaheim, California.

Harvest events are designed to be opportunities for Christians to invite family members, coworkers, friends, and acquaintances to hear the life-changing message of the gospel in an environment that is entertaining and nonthreatening.