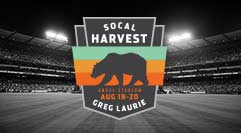 2017 SOCAL HARVEST
Event details, bios, PDF etc.
"I keep doing these crusades year after year because I want to take as many people with me to heaven as I possibly can." — Greg Laurie ANAHEIM, Calif. –SoCal Harvest is celebrating its 30th anniversary of holding crusades in Southern California the same way it did after its first crusade in 1990: with thousands of changed lives. The three-night outreach …

ANAHEIM, Calif. – SoCal Harvest held its second evangelistic crusade Saturday evening with a crowd of 34,000 who came to Angel Stadium to listen to performances by award-winning artists and a message of hope by Pastor and Evangelist Greg Laurie. Laurie, who this year celebrates 30 years of holding Harvest crusades in Southern California, invited attendees to respond to the …
Harvest: Greg Laurie introduction and a gospel message by Greg Laurie at Angel Stadium in Anaheim, California.

Harvest events are designed to be opportunities for Christians to invite family members, coworkers, friends, and acquaintances to hear the life-changing message of the gospel in an environment that is entertaining and nonthreatening.